"Because it sheds its skin, the snake has long been a symbol of death and rebirth...This is associated with higher wisdom that comes with the passing of time. This cycle of death and rebirth is often symbolized by the ouroboros, the ancient image of a snake swallowing its on tail. it is the symbol of eternity." - Ted Andrews
Before deciphering a dreams meaning, turning to animal spirit totems, or collective meanings of snakes in this case, I like to invite the dreamer to look first at what the symbology is in your life regarding the dream subject.
What does snake mean to you? Is it scary? Is it intriguing? What was a real life encounter you've had with snakes? What are some childhood archetypes you remember about snakes? Remember the flute playing in cartoons to mesmerize the cobra?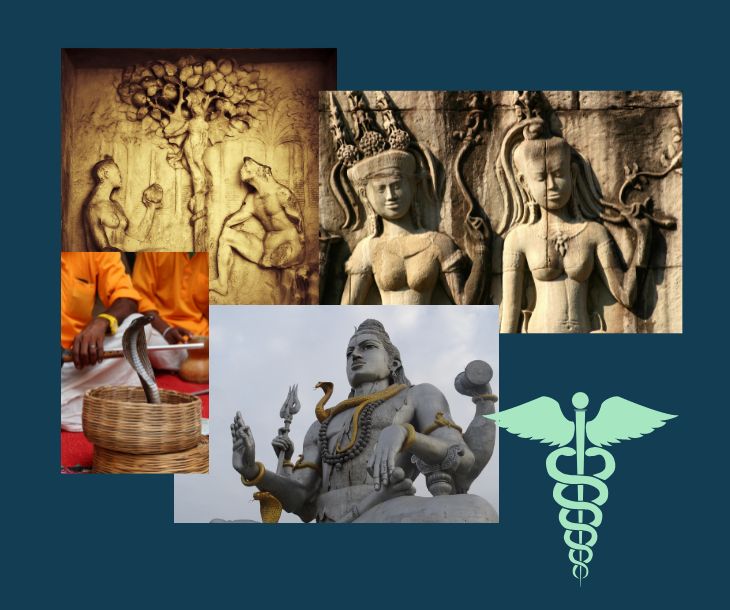 After you've written down all the different things a snake means and represents to you, it will open the portal to truly explore your dream.
For example, one of my first thoughts and reactions of a snake is um...no thanks. But, when I step into the mystical or spiritual meanings of snakes, knowing that they represent an incredible medicine for healing, transformation, wisdom, and clairvoyance, my mind expands into other realms outside of my immediate reactions.
The best resource in my library for animal totems is Ted Andrews' Animal Speak. If you don't already have it, I highly recommend it. In the chapter about snake, he summarizes the different cultural perspectives on snakes, ranging from the snake being evil, to the snake being revered. This array of perspectives may conjure up a sense of the depth of its meaning for you.
It's outdoor season so you might come upon a snake in waking life. Be mindful, present, and see what comes up for you. It's just as fun working with these symbols in waking life as dream time.